Download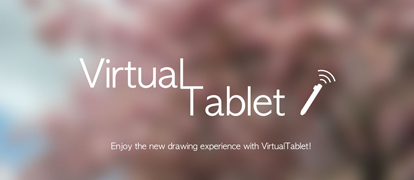 Client Applications (for Tablets)
Download VirtualTablet for Windows Store App(Metro style)
Download VirtualTablet for Android
Download VirtualTablet for Android Free version(with Ad)
Server Applications (for PC)
Please note that v3.0 server is not complatible with v2.x Apps. Update your Android/Windows Store app to most recent version. (The version number of a client and server do not need to be the same if they are most recent respectively.)
VirtualTablet Server application has auto update feature. However, if you run into any problem with auto update, please uninstall the existing application and download the most recent version from here.
VirtualTablet Server for Windows
Minimum requirements

Windows 7/8/10 (Compatible with both of 32bits/64bits versions)
.NET framework 4.0 or higher. Please update .NET framework from Microsoft Download page.
VirtualTablet Server for Mac
Minimum requirements

Mac OS 10.8 Mountain Lion or higher.